The photovoltaic industry is in a downturn and suffers from the enemy. How can you survive the cold winter? Enterprises that have the technical strength and can turn technology into productivity will eventually win. High-efficiency batteries are the key to the breakthrough of photovoltaics.
1. High-efficiency battery - photovoltaic breakthrough key
PV is currently in a downturn in the industry and is suffering from the enemy. There are financial crises, the market is sluggish, Europe and the United States are double-reverse, trade barriers; limited grid connection, policy lag, overcapacity, product homogeneity, high asset-liability ratio. Many people like to ask a question, "When do you think photovoltaics will recover?" I don't think this question is too big, because even if you can predict this point in time, are you sure that you can survive the recovery? The recovery of the industry is not equal to your resurrection, maybe you have become a passer-by at that time. So what kind of enterprise can survive this cold wave? Enterprises with technical strength and ability to turn technology into productivity will eventually win and usher in the next climax of photovoltaics.
With core technology, it is naturally possible to get the favor of capital and solve the shortage of funds. Naturally, we can break through the dilemma of price wars and overcapacity, and achieve higher profits. According to calculations, every one percentage point increase in conversion efficiency of solar photovoltaic cells will reduce the power generation cost of solar modules by about 7%. At present, the market in the international market is: the same is the production of P-type silicon wafers, and the conversion efficiency becomes the standard of pricing. Downstream customers use components made of high-efficiency solar cells to increase the annual power generation of solar PV systems with the same installation costs. High-efficiency batteries are the key to the breakthrough of photovoltaics.
The era of photovoltaic profit has passed. China's PV industry is reshuffled, waiting for policy and trade environment improvement, saving internal power to improve efficiency, waiting for the arrival of a true Huihong climax---photovoltaic parity online: photovoltaic power generation with equal price and traditional energy Market competition has entered the homes of ordinary people.
2. What is a high efficiency photovoltaic cell?
At present, the current solar cell industrialization level conversion efficiency: single crystal 15% to 17%, polycrystalline 12% to 15%, amorphous silicon film 8% to 9%. High-efficiency battery refers to the horizontal conversion efficiency of battery industrialization: single crystal "18%, polycrystalline" 16.5%, amorphous silicon film" 10%. One point to emphasize is that we are talking about the industrialized battery conversion efficiency, which means that it can be mass-produced and manufactured, not by the laboratory. There are many batteries in the laboratory that are very efficient, but the process is too complicated, or the technology is not mature. It only has research and development significance, cannot mass production, can not reduce production costs, and has no commercial promotion value.
Large-area, thin-film, high-efficiency and high-intensity intensive production will be the development trend of the photovoltaic silicon battery industry. By reducing the silicon material cost of the battery, increasing the photoelectric conversion efficiency and extending its service life, the power generation cost per unit cell is reduced. Saving human resources through intensive production reduces unit battery manufacturing costs. Establishing an excellent technical team through a reasonable mechanism and fully guaranteeing continuous innovation in technology is the core competitiveness of the future development of photovoltaic enterprises.
3. Technology development trend - thinning
Reducing the thickness of the silicon wafer is an effective technical measure to reduce the consumption of silicon material and reduce the cost of the crystalline silicon solar cell, and is an important aspect of the advancement of photovoltaic technology. For more than 30 years, the thickness of solar cell wafers has decreased from 450-500μm in 70 years to 150-180μm in current, which has been reduced by more than half. The amount of silicon material is greatly reduced, which plays an important role in reducing the cost of solar cells. One of the important examples of reduction.
The thickness reduction of the silicon wafer is shown in Table 1.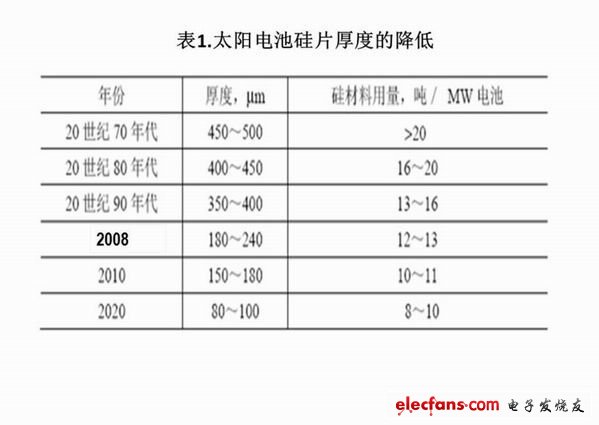 4. Photovoltaic technology development strategy objectives
The efficiency expectations of typical commercial components can grow from 16% in 2010 to 25% in 2030 and 40% in 2050. As energy and materials are used more efficiently in manufacturing, the energy recovery period of PV systems will continue to shrink. The energy recovery period is expected to decrease from two years in 2010 to 0.75 in 2030 and will fall to 0.5 years by 2050. Life expectancy has increased from 25 years to 40 years.

Strategic technical indicators
Aluminum circuit boards is a metal-based copper clad plate with good heat dissipation function. Generally, the single layer is composed of three-layer structure, which is a circuit layer (copper foil), an insulating layer and a metal base layer. Also used for high tech use is designed as double layers, the structure is circuit layer, insulation layer, aluminum base, insulation layer, circuit layer. A very small number of applications are multi-layer boards, which can be made of ordinary multi-layer boards combined with an insulating layer and an aluminum base.
Aluminum PCB characteristics
● Surface Mount Technology (SMT);
● Extremely efficient treatment of thermal diffusion in circuit design;
● Reduce product operating temperature, increase product power density and reliability, and extend product life;
● Reduce product size and reduce hardware and assembly costs;
● Replace the fragile ceramic substrate for better mechanical durability.
Aluminum PCB use:
● Audio equipment
Input, output amplifiers, balanced amplifiers, audio amplifiers, preamplifiers, power amplifiers, etc.
● Power supply equipment
Switching regulator, DC/AC converter, SW regulator, etc.
● Communication electronic equipment
High frequency amplifier, filtering appliance, reporting circuit, etc.
● Office automation equipment
Motor drive, etc.
● Automotive
Electronic regulator, ligniter, power controller, etc.
● Computer
CPU board, floppy disk drive, power supply unit, etc.
● Power module
Inverter, solid relay, rectifier bridge and so on.
● LED lighting
With the promotion of energy-saving lamps, various energy-saving and beautiful LED lamps have been well received by the market, and aluminum PCB used for LED lamps have also begun to be applied on a large scale.
Aluminium Pcb,Aluminum Pcb Prototyping,Aluminium Pcb Board,Aluminium Circuit Boards
Chuangying Electronics Co.,Ltd , https://www.cwpcb.com