On the afternoon of May 15, the Investment Promotion Association of Northeast Asia Shangdu·Suihua Optoelectronic Industrial Park (referred to as "Shangbohui") was held in the Oriental Hotel of Guzhen. The leaders of Suihua Municipal Government, the leaders of Beilin District of Suihua City and the heads of Shangbohui attended the exhibition. Some lighting quotient association presidents, secretary-generals, some manufacturers representatives and media reporters attended the meeting. More than 200 people from China (Jiangmen) International Green Light Expo Trading Center ("Guangbohui") and Shangbohui were involved in Russian trade and product procurement. , technical support and other aspects signed a strategic cooperation framework agreement, Guangbo Hui, managing director Guo Xiu attended the meeting and participated in the signing of the cooperation agreement.
Through this cooperation, Guangbohui will cooperate with Shangbohui to establish a trading platform for lighting and lighting in Russia. Guangbohui will also provide high-quality products, technology and intellectual support for the development of Shangbohui. Priority will be given to the purchase of Guangbo Hui into the company's products. The leaders of the Suihua Municipal Government and the leaders of the Beilin District are very optimistic about the development of Guangbohui. They have conducted on-site inspections on Guangbohui. Li Yuanxue, deputy secretary-general of the Suihua Municipal People's Government and secretary of the Beilin District Party Committee, believes that Guangbohui is positioned as the Green Light Source Expo Center, which is consistent with the state's promotion of energy conservation and environmental protection, and will greatly promote the development of the national green energy conservation cause.
It is reported that this is another breakthrough for Guangbohui to go abroad and seek international cooperation and trade. Since then, the important partners of Guangbohui Northeast Asia Trade Gate have been finalized. On March 7 this year, Guangbohui signed a strategic cooperation agreement with the Houston Trade Center of the United States, which confirmed that Guangbohui became the designated procurement network site in Houston, USA.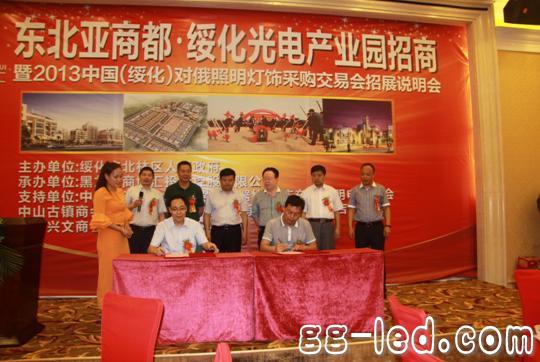 The picture shows Guo Xiu, the managing director of Guangbohui (sitting on the left), and Yu Zhilong, the member of the Standing Committee of the Beilin District Party Committee and the Secretary of the Political and Legal Committee of Suihua City, sitting on the right to sign a strategic cooperation agreement on trade with Russia in Northeast Asia.

(This article is submitted by Guangbohui)

Opgw Cable,Opgw Fiber Cable,Optical Fiber Cable Fittings,Spare Cable Coiling
Shandong Qingguo Optical Fiber Co., Ltd. , https://www.qgfiber.com