Taipei Computer Show-June 5, 2013 -Leading broadband access and home network technology provider LanTIq (LanTIq) demonstrated its breakthrough DSLTE â"¢ technology at the Taipei International Computer Show. The technology showcases a reference design based on LanTIq, which combines a wireline bonded VDSL (bonded VDSL) broadband access link and an additional LTE access link on a single home gateway. This advanced technology setup enables equipment manufacturers to provide service operators with new systems to take advantage of operators' existing DSL and LTE networks to provide the fastest bundled data rates and perfect quality of service (QOS).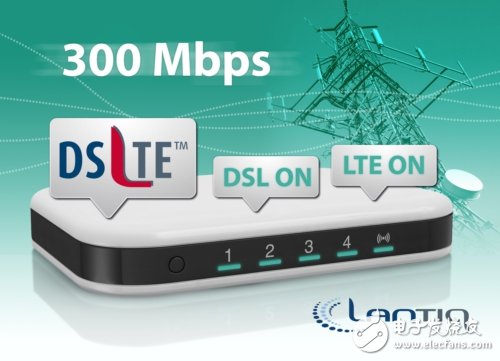 After combining mobile and fixed line network access, operators can create a broadband transmission tube with high reliability and aggregate data rate up to 300 Mbps.
More and more network operators are offering broadband access rates in excess of 100Mbps due to competitive challenges. Using LanTIq 's DSLTE ™ technology to integrate VDSL2 and LTE allows operators to skillfully reuse their existing network infrastructure to achieve this performance goal with minimal investment.
Highlights and advantages of DSLTE â"¢
· This reference design is based on LanTIq 's AnyWan ™ XWAY ™ GRX network processor series, which includes Lantiq 's latest wire-to-line bonding VDSL technology
· The combination of pre-integrated LTE module and Lantiq platform enables throughput up to a data rate of 300 Mbps at the lowest CPU load
· Efficient use of aggregate speeds up to 300 Mbps is controlled by a software-based traffic management suite running on the Lantiq GRX network processor
comment
Dirk Wieberneit, senior vice president of Lantiq and general manager of the customer premises equipment (CPE) business division, said: "With minimal investment, operators can improve their network performance and at the same time significantly improve their network reliability for various backup scenarios. .Lantiq 's DSLTE ™ technology combines our proven communications processor and VDSL transceiver series to ensure the industry 's best broadband service data link reliability. Especially in rural and suburban areas, it is the operator for its customers The group brings high-quality broadband services while simultaneously minimizing customer churn rate. "
HY Lee, CEO of Arcadyan, said: "With DSLTE â"¢ technology, Arcadyan is able to extend the bandwidth of the link channel up to 300 Mbps from the home network to the WAN through link aggregation. A powerful weapon for operators to compete. "
Michael Clegg, senior vice president and general manager of the service provider business unit of NETGEAR, said: "As more operators look for solutions that provide higher speeds for their DSL customers, adding a LTE WAN interface to the DSL gateway is here. The wise way to target, and the operator's investment is also the least. This dual WAN interface solution in addition to bringing higher WAN speed through its aggregate transmission, DSLTE â"¢ can also be used when A WAN to other WAN seamless failover provides solid network connectivity. These make DSLTE â"¢ attractive. As a leader in developing innovative, field-proven products in the wired and mobile broadband markets, NETGEAR is promoting DSLTE â"¢ technology is the leader in deployable products. "
Supply
Lantiq can now provide DSLTE â"¢ reference designs.
other information
Matthias Kindler, CPE product marketing director of Lantiq, will deliver a speech on DSLTE â"¢ at the LTE World Summit in Amsterdam on June 25 this year. For more information, please follow our website.
About Lantiq
Lantiq provides a diverse and innovative semiconductor product portfolio for next-generation networks and digital homes. For more information about Lantiq, you can visit our website, Twitter @Lantiq or YouTube.
Washing machines are very common in every family. Banshen washing machines, with high quality, good design and best service. Many products have been sold to over 30 countries. After many years of developing, banshen washing machines are getting better and better.
Our well-equipped facilities and excellent quality control throughout all stages of production enable us to guarantee total customer satisfaction. Besides, we have received CE, CB, RoHS and CCC certifications.
As a result of our high quality products and outstanding customer service, we have gained a global sales network reaching America, Asia, Europe, Africa, the Middle East and other countries and regions.
If you are interested in any of our products or would like to discuss a custom order, please feel free to contact us. We are looking forward to forming successful business relationships with new clients around the world in the near future.
4~7kg Single Tub Washing Machine
Home Washing Machine,Single Tub Washer With Dryer,7Kg Single Tub Washing Machine,6Kg Single Tub Washing Machine
Ningbo Banshen Electric Appliance Co., Ltd , https://www.banshendq.com