According to Taiwan media reports, Xuande LED street lamp orders will be officially shipped after many adjustments. Due to the launch of new products such as LED street lights and microwave communication connectors (RF), Xuande's operation is expected to turn from the third season. , single season force to turn into a loss.
Xuan De actively promoted the adjustment of business, finance and company organization after the joint venture between Chen Jincai and Chairman of the Inventec Group, Ye Guoyi, and the personnel, finance and business were fully taken over by the new team. Chen Xiaoqi, who has close ties with Inventec and other NB manufacturers, is at the helm, while Chairman Chen Jincai is responsible for LED-related layouts. Benefits are expected to begin in the third quarter.
The LED streetlights assembled by Xuande in combination with solar photovoltaic panels have entered the UK market in the second half of last year and won a large order for LED street lamps of 2 billion yuan. However, the bidding must be in line with the UK government's shipment schedule, and the LED brightness of the early Xuande is not up to standard. The standard has been delayed until now, and after the assistance of the Guanggao technical team, the current product has reached the standard, and it is expected to be officially shipped in the third quarter. The LED street lamp orders in Germany and other European regions are also in contact, and the LED street lamp is officially released. Under the cargo, Xuande's operation is expected to show strong growth momentum since the third quarter.
In addition to the large number of LED street lights, Xuande has locked in the NB and mobile phone markets, and developed new products such as microwave communication connectors (RF) and anti-electromagnetic interference (EMI) coatings. Due to the abundant network of Chen Xiaoqi in the NB industry, plus Inventec Group Supporting, it is expected that the benefits will be exerted in the second half of the year. Under the new product benefits, the company will strive to turn a profit in the third quarter and make a profit this year.
Previous: WACKER rewards new high-efficiency silicone researchers for LEDs Next: Zhongguancun builds LED high-end industrial cluster

Single Voltage AC180-240V Led Driver
Quick Overview
Constant current mode output
Typical lifetime>50000 hours
Protections: Short circuit/ Over Voltage/ Over temperature
S
ingle voltage, power 100-130V/180-240V input, plastic shell packaging, for the panel lamp power supply, Suitabled for the European market, indoor power supply, generally CE TUV UL certification, 3-5years warranty, pay attention to heat problems, to avoid the use of high temperature.
Parameter:
Input voltage: 100-130vac / 180-240vac
output voltage: 25-40vdc / 27-42vdc / 35-45vdc / 50-70vdc
current: 100mA-2000mA.
Power factor: >0.9
Dimming:Traic
>=50000hours, 3-5 years warranty.
certificate: UL CE FCC TUV SAA ect.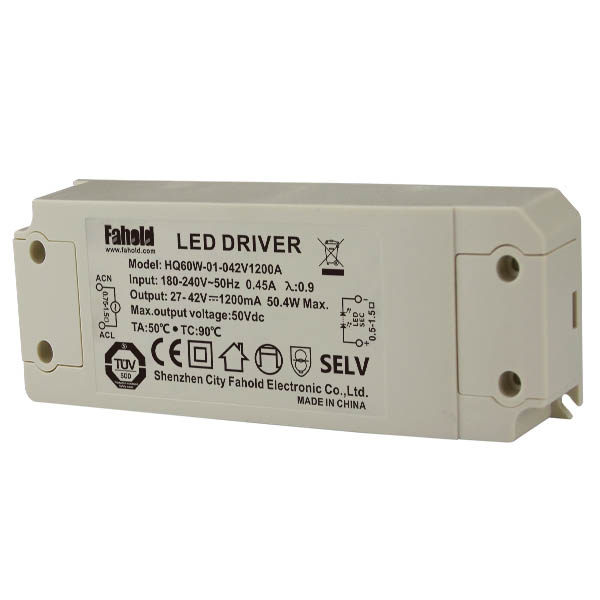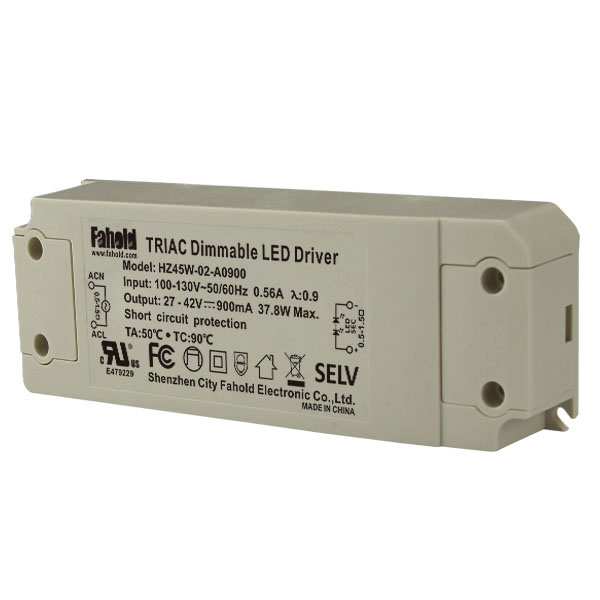 What's the benefits of Fahold Driver?
Standard Linear Lighting

Cost-effective led driver solution for industry,commercial and other applications

Good quality of led driver with high efficiency output to meet different requirements

Easy to order and install,requiring less time,reducing packaging waste and complexity

Flexible solution
FAQ:
Question 1:Are you a factory or a trading company?
Answer: We are a factory.
Question 2: Payment term?
Answer: 30% TT deposit + 70% TT before shipment,50% TT deposit + 50% LC balance, Flexible payment
can be negotiated.
Question 3: What's the main business of Fahold?
Answer: Fahold focused on LED controllers and dimmers from 2010. We have 28 engineers who dedicated themselves to researching and developing LED controlling and dimming system.
Question 4: What Fahold will do if we have problems after receiving your products?
Answer: Our products have been strictly inspected before shipping. Once you receive the products you are not satisfied, please feel free to contact us in time, we will do our best to solve any of your problems with our good after-sale service.
Single Voltage AC180-240V Led Driver
Led Driving Lights Driver,60Watt Led Driver,Current Led Driver
ShenZhen Fahold Electronic Limited , http://www.fahold.com